Spanish Property Market Report 1st quarter 2021
New and second hand Spanish Property Sales
www.registradores.org has published its quarterly Real Estate statistics report for the first quarter of 2021 and it shows for some very interesting reading.
Average house prices in all of Spain for the 1st quarter of 2021 reached €1,781/m2 (€2,059/m2 for new homes and €1,703/m2 for 2nd hand homes). The accumulated data for the past twelve months shows an average result of €1,762/m2, with an inter-annual increase of 0.9% overall.
Housing sales registered at notaries across Spain during the 1st quarter of 2021 reached a total of 129,228, an increase of 13.6% over the 4th quarter of 2020 (113,799).
The market is starting to show that buyers in general are less affected by the health crisis which is a good sign for buyers and sellers alike. Mobility restrictions due to Covid-19 continue to affect the Real Estate market in Spain; however foreign buyers make up the following percentages of buyers illustrated in the image below.​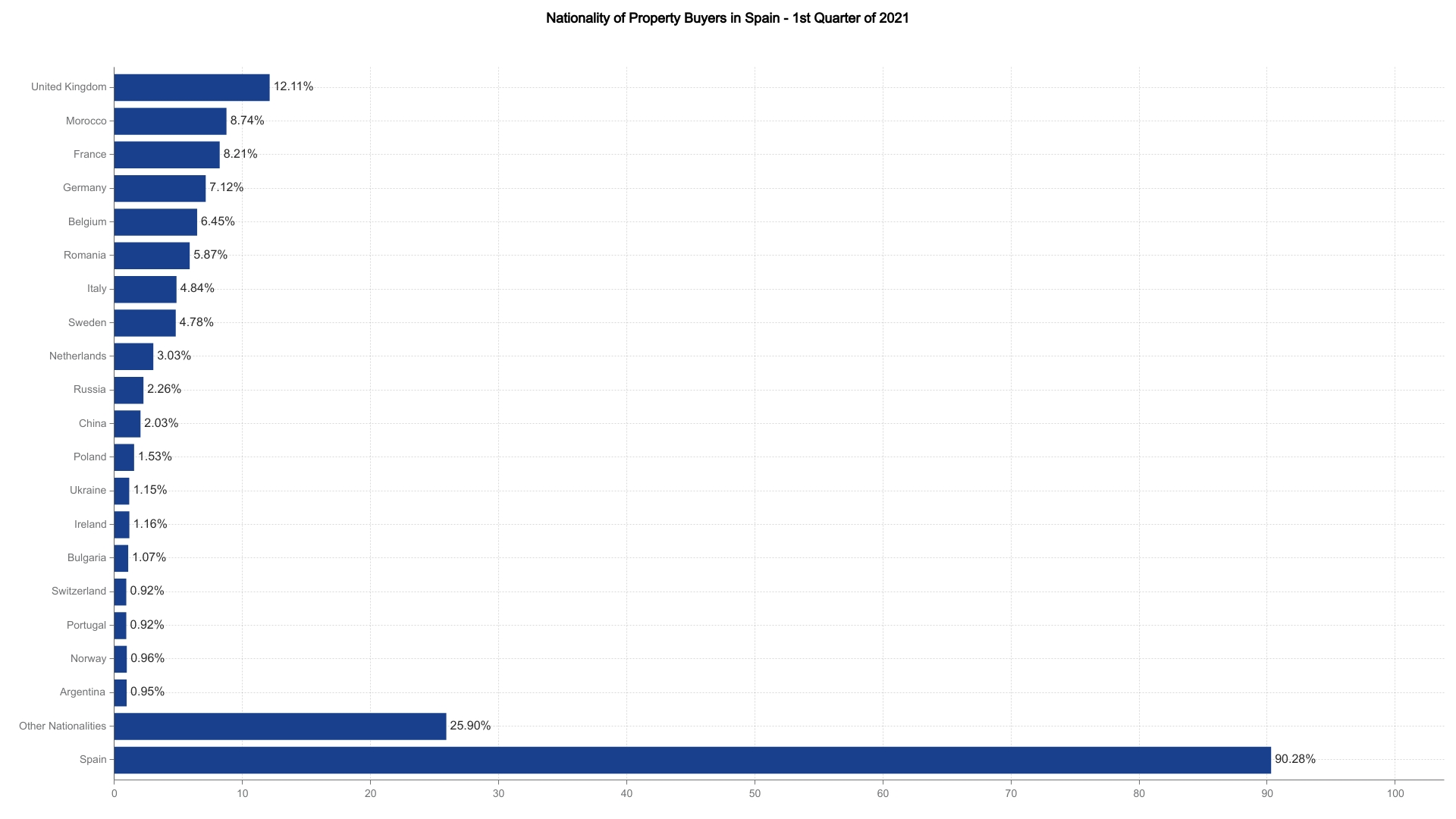 British Nationals continue to lead the ranking with 12.1% of total purchases, followed by Moroccans (8.7%), French (8.2%), Germans (7.1%) and Belgians (6.5%).
The Autonomous Communities with the greatest percentage of home purchases by foreigners have been the following:-
Balearic Islands (24.3%)
Canary Islands (21.2%)
Valencia (19.4%)
Murcia (18.1%),
Andalucia (10.9%)
Catalonia (10.2%)
At provincial level, the highest percentages for foreign property purchases have been registered in the following provinces:-
Alicante (31.5%)
Santa Cruz de Tenerife (26.8%)
Málaga (25.6%)
Balearic Islands (24.3%)
Girona (21.9%)
Murcia (18.1%)
Las Palmas (16.7%)
The total number of property sales has increased the intensity of recovery, with a quarterly growth of 13.6%, reaching a total of 129,228 (113,799 in the 1st quarter of 2020), and surpassing the number of sales registered in the 1st quarter of 2020 (127,357)
New housing has contributed to the highest growth, with 23.4% of new homes registered (28,192 purchases), with 2nd hand housing accounting for 11.1% (101,036 purchases).
Inter-annual results are showing that new housing has been somewhat more favorable, this is largely due to how buyers have adapted to the pandemic. Sales of new homes show that the new home market has been less affected by the situation of the last twelve months.
In the 1st quarter of 2021, all of the autonomous communities registered quarterly growth, with the largest number of property sales being registered in the following communities:-
Andalucia (25,673)
Catalonia (20,902)
Madrid (19,339)
Valencia (17,496)
(Market shares of 20.1%, 14.8%, 14.3% and 13.2%, respectively across the whole of Spain)
The past twelve months show a total of 421,769 property sales in Spain, a decrease of -15.2% to the preceding twelve months. These annualised results are affected by the market difficulties in the previous four quarters, and especially in the second half of 2020.
New home sales reached a total of 87,969 (an annual decrease of -1.7%) In the past 12 months there were 333,800 purchases of 2nd hand homes, an adjustment of -18.2% over the previous 12 months
Forty-four provinces have registered quarterly growth in the number of purchases; twenty-five of them have reached positive double-digit rates. Property sales for the 1st quarter of 2021 have been reached in the following provinces:-
Madrid (19,339)
Barcelona (13,638)
Alicante (7,901)
Valencia (7,405)
The provinces that have registered the highest number of sales during the last 12 months have been:-
Madrid (60,167)
Barcelona (44,099)
Alicante (27,607)
Valencia (23,823)
Malaga (23,518)
For the 1st quarter of 2021, these are the provinces with the highest number of purchases of new homes:-
Barcelona (2,505)
Málaga (1,944)
Alicante (1,308)
Valencia (1,194)
For the 1st quarter of 2021 the provinces with the highest number of purchases of 2nd hand homes:-
Madrid (13,207)
Barcelona (11,133)
Alicante (6,593)
Valencia (6,211)